This web site is for the purpose of exposing the amazing hypocrisy we see coming from sanctimonious democrats like Terry McAuliffe who actually has the audacity to lampooning about Bush and Harken while he told people that his insider trading and profit of $18 million was capitalism (no, that is fraud, Terry) and that we should move to Cuba or China if we dont like it.
It is in the infinite stages, but we hope to expand. So if you have any information and a Democrook that you want exposed, feel free to go to the Contact Us page and send in your request.
Just who is the 'Party of the Rich?' Liberals have been telling us it is the Republican Party and that makes republicans responsible for the corporate fraud being committed by Clinton's buddy Gary Winnick and the DNC Chairman Terry McAuliffe making an 18,000% profit off of insider trading.
The richest members of Congress are:
Sen. John Kerry (D-Mass.) still leads the pack, despite the fact that estimates of his wife's ketchup fortune took a dip, it fell from $675 million to $620 million.
Sen. Jon Corzine (D-N.J.) comes in second, he made his $400 million dollar fortune through a stock scheme at Goldman & Sachs.
Sen. Herb Kohl (D-Wis.), worth roughly $300 million.
Sen. Jay Rockefeller (D-W.Va.), worth approximately $200 million.
Sen. Dianne Feinstein (D-Calif.), with an estimated $50 million.
Sen. Maria Cantwell (D-Wash.), worth $40 million.
Sen. John Edwards (D-N.C.), worth $25 million.
Sen. Edward Kennedy (D-Mass.), worth $25 million.
Also, the Democratic Party refuses to release the figure for its average political contribution received while the Republican Party proudly post its average donation of $50.00 and that says a lot.
Hypocrat Alert: Senate Democrats Leave on a Corporate Jet Plane!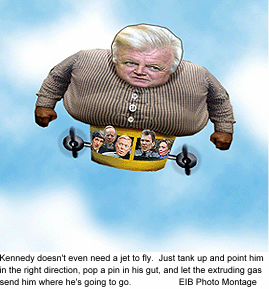 Right after voting yesterday morning to limit debate on legislation clamping down on corporate abuses, 16 Democratic senators flew on corporate jets from Washington to Nantucket, Mass., for a weekend retreat with 250 major campaign donors.
The jets were supplied by BellSouth Corp., Eli Lilly and Co., FedEx and AFLAC. All have given large sums of "soft money" to both major parties, but Republicans generally have received the majority.
The cost of using the jets -- estimated by the Democratic Senatorial Campaign Committee at just over $44,000 -- will be counted as in-kind soft-money contributions to the committee. Tovah Ravitz-Meehan, DSCC communications director, said invitations to the weekend gathering were sent to those who had given $20,000 or more. There are no official events or presentations planned, she said, although some senators up for reelection this fall might discuss their campaigns with the donors.
Asked about the propriety of Democrats -- many of whom have criticized President Bush and congressional Republicans for their ties to corporations accused of accounting abuses -- voting to close debate on corporate-accountability legislation and then flying to a resort in corporate jets, Ravitz-Meehan said: "I don't think there is any tie between the vote and their mode of travel." Getting to Nantucket, she said, is "logistically difficult, and expensive to reach commercially."
On the US Airways Web site, round-trip tickets between Washington's Reagan National Airport and Nantucket ranged from $303 to $1,124, depending on when reservations were made.
DSCC staffers provided seven newspaper articles describing various Republicans' use of private jets.
The Democratic senators attending the Nantucket retreat are DSCC chairman Patty Murray (Wash.), Senate Majority Leader Thomas A. Daschle (S.D.), Bill Nelson (Fla.), Daniel K. Akaka (Hawaii), Evan Bayh (Ind.), Joseph R. Biden Jr. (Del.), Hillary Rodham Clinton (N.Y.), Jon S. Corzine (N.J.), Byron L. Dorgan (N.D.), Richard J. Durbin (Ill.), Edward M. Kennedy (Mass.), John F. Kerry (Mass.), Blanche Lincoln (Ark.), Ben Nelson (Neb.), Charles E. Schumer (N.Y.) and Ron Wyden (Ore.).
(Source: Washington Post, July 13, 2002; "Senate Leave on a Corporate Jet Plane")